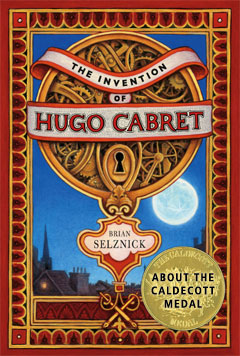 The Invention of Hugo Cabret
- written and illustrated by
Brian Selznick
- is a historical-fiction novel. The author uses over half of the book's 533 pages for pictures, relying on both text and pictures to tell the story. On the
official site
Selznick describes the book as "not exactly a novel, not quite a picture book, not really a graphic novel, or a flip book or a movie, but a combination of all these things."
[1]
Background
Edit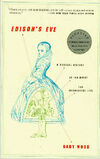 Selznick's primary inspiration for the book was the true story of filmmaker
Georges Méliès
. Elements from Méliès' films, as well as his collection of mechanical, wind-up figures called automata were incorporated into the novel. Selznick's decision to add automatons to the storyline came after reading
Edison's Eve
by Gaby Wood, which recounts Thomas Edison's attempt to create a wind up doll that could speak.
Publishing
Edit
Author: Brian Selznick
Cover artist: Brian Selznick
Illustrator: Brian Selznick
Country: United States
Language: English
Genre: Historical Fiction
Publisher: Scholastic Press
Published: January 2007
Print type Hardback, Paperback
Pages: 526 (including 284 pages of illustrations)
Iowa Children's Choice Award - 2009-2010 (winner)
Caldecott Medal - 2008 (winner) -A rare honor since this award is for illustrations.
National Book Award: Young People's Literature - 2007 (finalist)
Junior Library Guide Selection
References
Edit
Ad blocker interference detected!
Wikia is a free-to-use site that makes money from advertising. We have a modified experience for viewers using ad blockers

Wikia is not accessible if you've made further modifications. Remove the custom ad blocker rule(s) and the page will load as expected.