---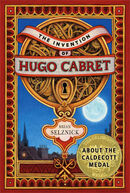 The Invention of Hugo Cabret
- written and illustrated by
Brian Selznick
- is a historical-fiction novel. The author uses over half of the book's 533 pages for pictures, relying on both text and pictures to tell the story. On the official site Selznick describes the book as "not exactly a novel, not quite a picture book, not really a graphic novel, or a flip book or a movie, but a combination of all these things."
Read more >

--- ---
Georges Méliès
(full name: Marie-Georges-Jean Méliès), was a cutting-edge French filmmaker famous for leading the way in many technical and narrative developments in the earliest days of cinematography. He was a pioneer in the use of special effects, paving the way for future advances in the industry.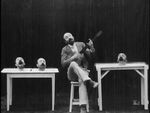 He discovered the stop trick, or substitution, by accident in 1896, and was one of the first filmmakers to use such effects as time-lapse photography, scene-dissolves, multiple exposures, and hand-painted colorization.
Read more >
---
After seeing the trailer, will you read the book first, or see the movie without knowing the story?

---

---
Loading RSS data...
Read more >

---
Create blog post

With a solid cast, an amazing director (Martin Scorsese) and a story that has proven itself to hoards of young readers, Hugo promises to deliver the goods for the whole family this Thanksgiving. Ful…


Read more >
See more >

---
We are currently housing 30 articles, and 69 files. We need YOUR help expanding and adding articles to the wiki!
---
---
If you're new to wikia, please use the above links to get started.
If you already have editing experience, and you have an article relating to Hugo to contribute, use the box below to create it:
Thank you!
Hugo & Splodyhead (TBA)
Hugo & Splodyhead is an upcoming British-American-French historical buddy mystery adventure family feature film that is yet to be developed. It will be a live-action/animated reboot to the 2011 film Hugo and will be distributed by Paramount Pictures, who also distributed the original film. It will feature many of the characters returning from the original film, including Hugo, as well as new ones, especially animated characters like Splodyhead, Yaarp, Slugger, Slushy, Richter, and Sparky from Lilo & Stitch (who will be serving as Hugo and Isabelle's experiment pets, with Splodyhead, Yaarp, and Slugger being Hugo's pets and Slushy, Richter, and Sparky being Isabelle's pets), Judy Hopps and Nick Wilde from the 2016 Walt Disney Animation Studios CGI feature film Zootopia, Mr. Peabody from the 2014 DreamWorks Animation CGI feature film Mr. Peabody & Sherman, and Gidget from the 2016 Illumination Entertainment CGI feature film The Secret Life of Pets.
Ad blocker interference detected!
Wikia is a free-to-use site that makes money from advertising. We have a modified experience for viewers using ad blockers

Wikia is not accessible if you've made further modifications. Remove the custom ad blocker rule(s) and the page will load as expected.