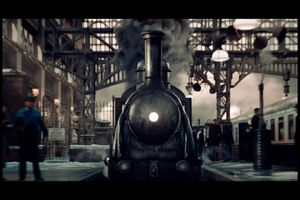 The Granville-Paris Express was hauled by steam locomotive No. 721, a 2-4-0 (type 120 in the French style of notation). On October 22, 1895, the locomotive crashed in the
Train Station
because it was several minutes late and the driver was trying to make up for lost time. It entered the station too fast and the train air brake failed. After running through the buffer stop, the train crossed the station concourse and crashed through the station wall; the locomotive fell onto the Place de Rennes below, where it stood on its nose. A woman in the street below was killed by falling masonry. The event occured during
Hugo
's dream when the
Train Engineer
and the
Train Engineer Assistant
were driving the locomotive too fast and were trying to stop the train because Hugo found the key on the tracks. The key was in the shape of a heart  and was the key to automaton. In the movie the locomotive was pulling 2 luggage vans and 4 passenger carriages.
Ad blocker interference detected!
Wikia is a free-to-use site that makes money from advertising. We have a modified experience for viewers using ad blockers

Wikia is not accessible if you've made further modifications. Remove the custom ad blocker rule(s) and the page will load as expected.